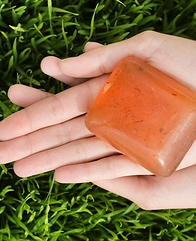 Soap Story @ HortPark : nature fitting into science through the creative use of essential oils.
Soap is the result of combining an alkali with an acid.   The alkali used to make bar soap is sodium hydroxide (caustic soda) and the acid is any kind of oil or fat (vegetable or animal based).
The bar soap is a simple hygiene product that has helped fight diseases and save life in the course of human civilisation. Although globally liquid soap outsells bar soap by eight to one, there are many advantages the humble bar soap has over liquid soap (provided they are made with environmentally friendly and natural ingredients.